[2017 NEW] Innisfree Jeju life Perfumed Hand Cream

▶ Manufacturing company:COSON Co.,Ltd

▶ Place of origin:Korea

▶ Internal capacity:30ml*2

▶ Main ingredients

:Salvia Hispanica Seed extract, Centella Asiatica extract, Houttuynia Cordata extract, Sodium Stearoyl Glutamate,
Camellia extract, Ethylhexylglycerin, Saccharomyces Ferment Filtrate, Butylene Glycol, Shea butter, Olive oil,
Mandarin peel extract, Orchid extract, Green tea extract, Camellia leaf extract,
Opuntia Coccinellifera Fruit extract, Perfume

▶ Product Description

:Long lasting fragrance, moist and quick-absorbing formula, convenient one-touch cap,
The scene met in Jeju expresses to a lyrical incense, Jeju Life Hand Cream 10 kinds

▶ Product Features

1. Moist Hand Cream full of lyrical and rich fragrance

It expresses lyrically the scene met in Jeju every month to rich fragrance that seems to be in Jeju Island

2. A variety of fragrances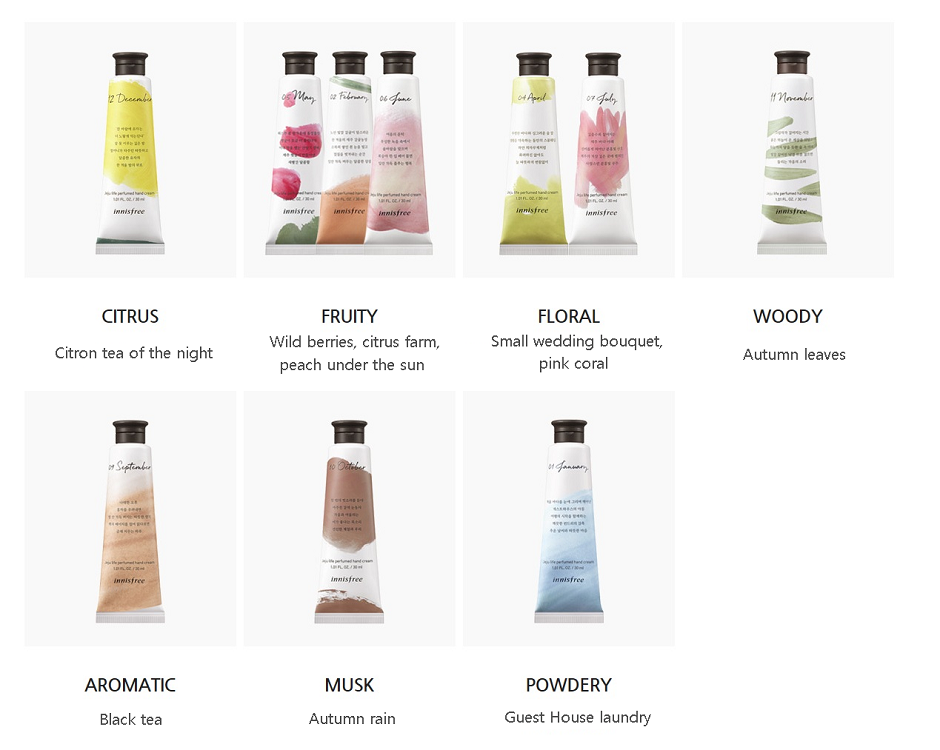 3. Long-lasting fragrance with a fabric softener technology

Flavor stabilization and reinforcement technology applied in existing industrial products such as fabric softener and deodorant,
and semi-wax trap technology have been used and it delivers rich fragrance for a long time.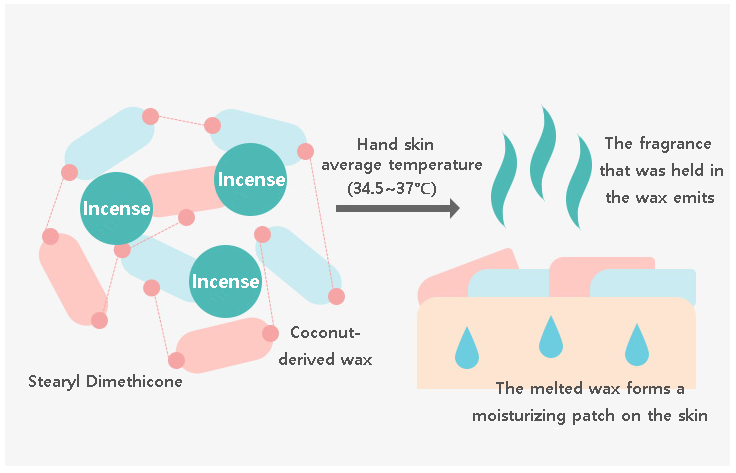 * Semi-wax trap technology

After stabilizing the fragrance in the low melting point wax network, experience the delicate fragrance that has long been perfumed
with a system that fragrance is emitted when melted at a specific temperature.

Stearyl Dimethicone at 40 ° C and coconut-derived wax at up to 35.5 ° C, and two semi-waxes dissolve
in the temperature of hand and emit the fragrance held in the wax.

4. A moist formula that wraps around your entire hand cares to the more moisturizing

Absorbs quickly without sticky or oily residue.

5. Tube container enhances portability and is easy to use as a one-touch cap

It is a one-touch type hand cream containing contents in a tube-type container, so it is easy to use and it is good to apply from time to time.

6. It can be used at any time while putting it in a pouch with a small size coming in one hand.

▶ how to use

:After washing your hands, take an appropriate amount and apply evenly.

▶ TYPE

(1)1月 Guest House laundry

:A hand cream that resembles the clean incense of a laundry when you wake up in the morning sun in a guest house




(2)2月 Citrus farm

:A hand cream that resembles incense of blue citrus farm which full of sweet tangerines in Jeju.




(3)4月 Small wedding bouquet
:A hand cream that resembles the fragrance of a purest gardenia bouquet that matches a warm small wedding and a white dress




(4)5月 Wild strawberry under the sun

:A hand cream that resembles the fragrance of appetizing and ripe wild strawberry under the sunshine of Jeju




(5)6月 Peach
:Hand cream that resembles the fragrance of cool peach which is eaten in the hot Jeju




(6)7月 Pink Coral
:A hand cream that resembles a lovely pinkish coral that boasts a splendid appearance under the deep ocean of Jeju.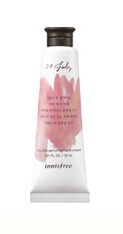 (7)9月 Black tea

:A hand cream that resembles the relaxation of a cup of hot tea enjoyed with books in the afternoon of Jeju, where the wind blows




(8)10月 Autumn rain

:A hand cream that resembles the soft, warm musk fragrance after the autumn rain that moistened the soil moist




(9)11月 Autumn leaves

:A hand cream that resembles the warm, light fragrance of darkened autumn leaves




(10)12月 Citron tea of the night

:A hand cream that resembles the warm citron tea that makes you sleep.