[2017 NEW] MISSHA Radiance Satin Puff[2P]
▶ Manufacturing company : COREAPUFF MANUFACTURING CO., LTD.
▶ Place of origin : Korea
▶ Internal capacity : 2P(63*55.8*7T)
▶ Material : NBR
▶ Product Description
: Radiance Satin Puff that applies powder thinly and evenly to skin to make smooth texture
▶ Product Features
1. It looks as if it was originally my skin texture! Thin & Smooth
It gives a smooth skin texture with a thin layer of powder as if it looks like covering a single layer of veil on your face.
2. Makeup persistence UP!
The soft, elastic NBR material applies the powder to your face, and enhances makeup sustainability.
3. Delicate touch, Tight cover
The diamond-shaped puff makes a delicate touch to the curved narrow part, such as the nose which is difficult to makeup.
※ Perfect match with Radiance Pact!
: It is a perfect match for the Radiance Pact that completes the shining skin like porcelain without defect.
(This is the same product as built-in puff in the Radiance Pact .)
▶ How to use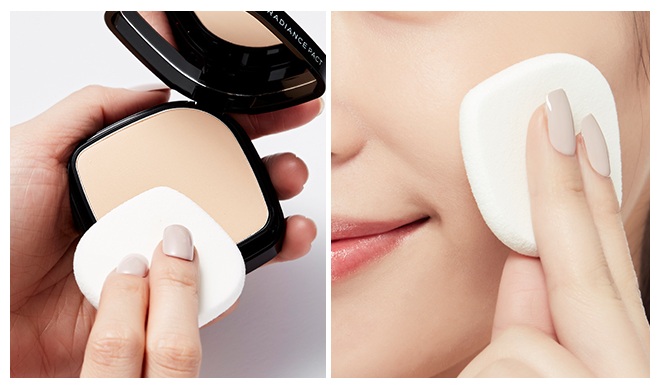 : Take an appropriate amount of powder to the puff, then apply it softly and lightly.
※ Partner Item! "Puff Shower Cleanser"
: Take a small amount of puff shower cleanser to puff and wash thoroughly with hot water!
* Precautions
: Please note that the life of puff is shortened if you rub too hard when washing.