[2018 NEW] TONY MOLY BCDATION Cushion Plus Holiday Edition(SPF50+/PA+++)
▶ Manufacturing company : Megacos Co., Ltd.

▶ Place of origin:Korea

▶ Internal capacity : 15g

▶ Main ingredients
:Glacial water, Argan tree kernel oil, Olive oil, Green tea oil, Maltitol
▶Product Description

:Glossy Cushion that completes shiny and flawless skin
▶ Product Features
1. All-in-one cushion that reduces weight, adds functions
It is a new concept all-in-one base that contains BB Cream + CC Cream + Foundation + Cushion in one.
It gives smooth cover, light and flexible adhesion like air
2. Moisturizing Effect
It expresses a lighter and dense skin with a micro cover which is 1/3 smaller than normal size.
3. Cover Locking & Aake-up with reduced darkening
Hybrid dual cover system keeps the cover and durability without clumping,
and low temperature aging plant oil ampoule controls the oil and water content in the skin to reduce stickiness
and lasts even in the season of change.
※ Upgraded the existing air puff! Smart Double Air Puff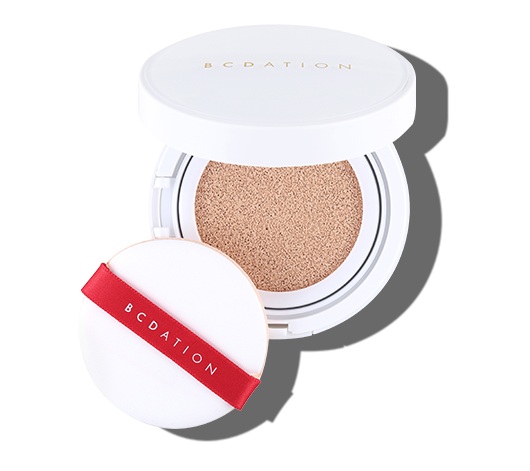 1. Smoother & More Even Skin Expression with 4-layer structure
The thin film is put in the puff to take less of the contents, so you can take only the contents you need, and express your skin without clumping.
2. Hygienic use with less worry about pollution
It prevents the contents from penetrating deep into the puff, making it possible to use cleanly from contamination
and easy for antibacterial treatment.
3. Only the amount needed, The optimal amount of pickup
Practical use that reduces waste by taking less contents than existing air puff
▶ How to use
: Take the appropriate amount using the built-in puff, and apply it on the skin in the base step.
: The more you apply, the greater the coverage. (Available before and after makeup)
▶ Color
▶ Coloring
* The above image may vary depending on your skin type.