[2018 NEW] TONY MOLY Back Gel Eyeliner Holiday Edition
▶ Manufacturing company : Megacos Co., Ltd.

▶ Place of origin:Korea

▶ Internal capacity : 3.5g

▶ Main ingredients
:Macadamia seed oil, Grape seed oil, BHT, Butyl paraben
▶Product Description
:Brush-Integrated Gel Eyeliner
Using a thixotropy gel, it has a good sliding feeling when touched with a brush, and it is firmly fixed while being smoothly applied.
It does not be smeared, and it forms a film of waterproof to enhance the make-up sustainability.
: Waterproof Function
▶ How to use
1. Apply color to both sides of eyeliner brush.
2. Before applying makeup, wipe off the extra amount with tissue and draw along the eye line.
(After the eyeliner is dry, it will not spread well, so apply it quickly.)
※ Precautions
: Please keep the lid tightly closed.
: After use, please wash using a brush cleanser.
▶ Color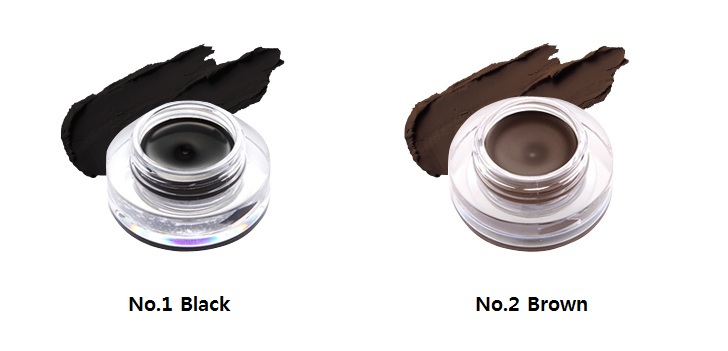 1. 01 Black
: Black color suitable for smokey & daily makeup
2. 02 Brown
: Natural brown color suitable for natural makeup & brown smokey makeup
▶ Coloring