ETUDE HOUSE Monster Cleansing Water Duo SPECIAL SET
▶ Manufacturing company : ETUDE HOUSE

▶ Place of origin:Korea

▶ Volume : 300ml + 300ml + [Cotton Pad] 60EA
▶ Main ingredieints
[Monster Micellar Cleansing Water]
: Green Tea Extract, Aloe Vera Leaf Extract, Phyllostachis Bambusoides Juice
[Monster Oil In Cleansing Water]
: Coconut Oil, Phyllostachis Bambusoides Juice, Green Tea Extract, Tomato Lipid, Aloe Vera Leaf Extract
[Cotton Pads Round]
: Cotton

▶ Product Description
: Monster Cleansing Water Set to choose according to today's skin condition and makeup
▶ Product Features
[Monster Micellar Cleansing Water]
- When you need mild cleansing for sensitive skin conditions!
1. Low irritant & Mild Monster
Monster micellar particles contained in the base water, a component similar to the bio-water, cleanse only the makeup wastes without burden on the skin.
2. 9 Free System
Animal raw material, Mineral oil, Artificial fragrance, Polyacrylamide, Silicone oil, Imidazolidinyl urea, Synthetic pigment, Triethanolamine, Sulfate surfactant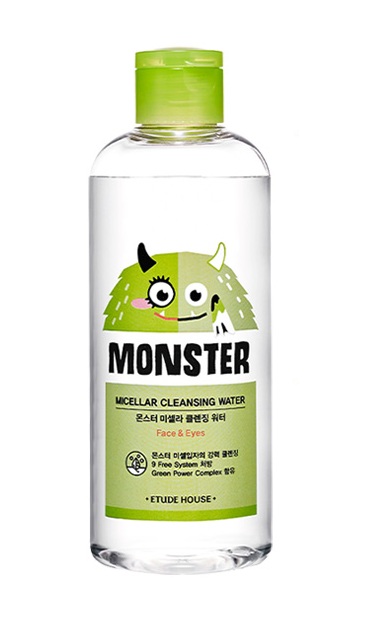 [Monster Oil In Cleansing Water]
- When you need intensive cleansing for thick makeup!
1. Intensive One-step Cleansing
The yellow oil formula removes gently even waterproof mascara, so it can cleanse thick makeup with one-step.
2. Fresh Cleansing Water
Light oil containing natural derived coconut oil and green power complex (aloe, bamboo, green tea component) water can be used freely
because it leaves only freshness on your skin.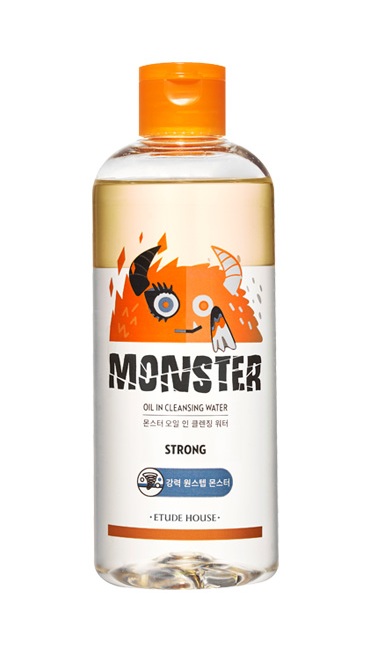 * What is dual cleansing effect?
: It is a double cleansing that the oil quickly melts makeup attached to the skin and the water wipes away makeup wastes.
It wipes away wastes accurately and provides clean skin without rubbing.
3. Even on thick eye makeup!
[Cotton Pads Round]
1. Soft fabric with a wave pattern
Waterjet fabric with dense wave patterns gently wipes away the wastes and dead skin cells of the skin without lint.
It consists of two different cotton on both sides, so you can do cleansing with the clean side and skin care with the absorption side.
2. 100% Pure Cotton
It can be used on skin mildly with 100% pure cotton without fluorescent material.
▶ How to use
1. Gently press your eyes and lips for 5 to 10 seconds, then gently wipe the point makeup.
* Use the Monster Oil In Cleansing Water after shaking so that the oil layer and the water layer are sufficiently mixed.
2. Gently wipe the face make-up from inside to outside along the skin texture.