Mamonde Cherry Blossom Eye Palette
▶ Manufacturing company : Mamonde

▶ Place of origin:Korea

▶ Volume:1g*12EA
▶ Main ingredients
: Talc, Mica, Silica, Triethylhexanoin, Boron Nitride, Dimethicone, Carmine
▶ Product Description

: Mamonde Limited Edition Eye Shadow Palette that completes bright pink cherry blossom makeup like cherry blossoms
▶ Product Features
1. Perfect line-up with lovely pink cherry blossom 12 colors!
Base 4 colors with warm feeling / Point 4 colors with lovely pink / Shade liner 4 colors for deep eyes
2. Soft and silky texture

High-adhesion shadows that are applied thinly and maintained for a long time

3. Convenient portability for correction make-up, anytime, anywhere

With a slim thickness of 1.4cm and a built-in mirror & built-in tip brush, it is suitable for correction make-up anytime, anywhere.
▶ How to use
: Take an appropriate amount of the contents into the built-in sponge tip, adjust the amount on the back of the hand, and apply it naturally on the eyelids.
▶ COLOR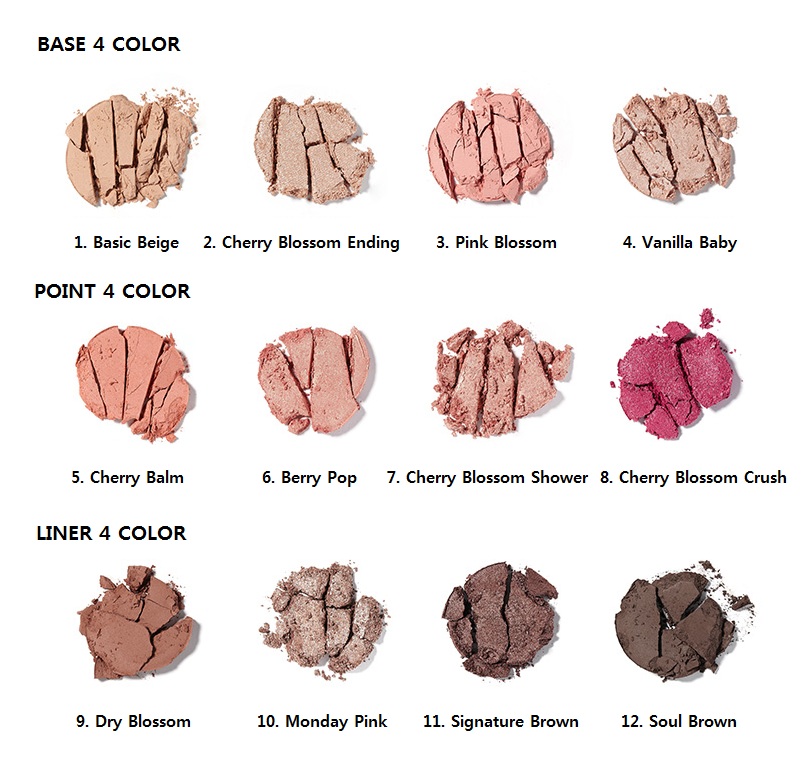 ▶ Coloring