HAPPY BATH Nutrition Lip Bar

▶ Manufacturing company : AMOREPACIFIC

▶ Place of origin:Korea

▶ Volume : 3.8g
▶ Product Description

:Fills with vitality and nutrition on the lips with 10 super foods!
▶ Product Features
1. Nutrition UP with 10 super foods
Vitality and nutrition UP by delivering nutritions of super food on the lips in a healthy way
2. Fills dry lips with moisturizing effect
Even if applyed to the no-makeup face, it creates natural and lively lips with abundant moisturizing feeling and soft color.
3. Vitality UP with vitamin shot! Fills the lips with an energy
Contains vitamin C derivatives to fill the energy to your lips!
▶ How to use
: When your lips are dry or look lifeless, apply it frequently.
▶ TYPE
1. Honey&Oat
▶ Main ingredients
: Shea butter, Sunflower seed oil, Sweet almond oil, Olive oil, Jojoba seed oil, Macadamia seed oil, Orange oil, Litsea cubeba fruit oil,
Chamomile flower extract, Beetroot extract, Angelica gigas extract, Calendula flower extract, Perilla leaf extract, Carrot extract,
Centella asiatica extract, Borage extract, Honey extract, Oat kernel extract
▶ Product Description
: Nutrition of honey and oatmeal for dry lips
Highly-moisturizing colorless lip balm with rich moisturizing and mild fragrance of sweet honey and savory oatmeal
2. Peach&Raspberry
▶ Main ingredients
: Orange peel oil, Coconut oil, Macadamia seed oil, Jojoba seed oil, Lemon peel oil, Geranium oil, Peach extract, Raspberry extract,
Mulberry root extract, Blueberry extract, Chamomile flower extract, Beetroot extract, Angelica gigas extract, Calendula flower extract,
Perilla leaf extract, Carrot extract, Centella asiatica extract, Borage extract
▶ Product Description
: Moisturizing effect of sweet peach and sour raspberry
Moist tint lip balm with peach pink color that is natural and lively and lovely even if applied on the no-makeup face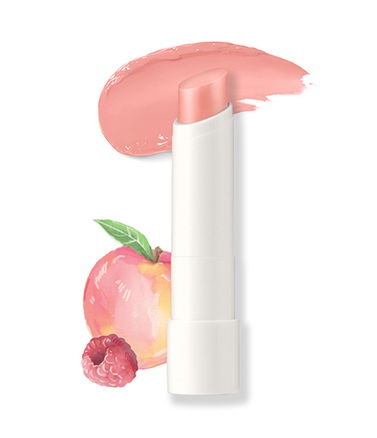 3. Grapefruit&Fig
▶ Main ingredients
: Shea butter, Castor oil, Sunflower seed oil, Coconut oil, Olive oil, Sweet almond oil, Citrus paradisi oil, Jojoba seed oil, Argan tree kernel oil,
Macadamia seed oil, Green tea seed oil, Camellia oil, Macadamia seed oil, Rosehip fruit oil, Centella asiatica extract, Chamomile flower extract,
Beetroot extract, Angelica gigas extract, Calendula flower extract, Perilla leaf extract, Carrot extract, Borage extract, Grapefruit extract, Fig extract
▶ Product Description
: Vitality of sour grapefruit and sweet figs
Moist tint lip balm with fresh grapefruit pink color that is natural and lively even if applied on the no-makeup face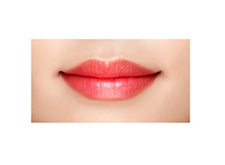 4. Mandarin&Orange
▶ Main ingredients
: Shea butter, Castor oil, Sunflower seed oil, Coconut oil, Olive oil, Sweet almond oil, Orange peel oil, Jojoba seed oil, Argan tree kernel oil,
Macadamia seed oil, Green tea seed oil, Camellia oil, Rosehip fruit oil, Chamomile flower extract, Beetroot extract, Angelica gigas extract,
Calendula flower extract, Perilla leaf extract, Carrot extract, Centella asiatica extract, Borage extract, Citrus unshiu peel extract, Orange extract
▶ Product Description
: Nutrition of sour mandarin and orange
Moist tint lip balm with orange color that is natural and lively even if applied on the no-makeup face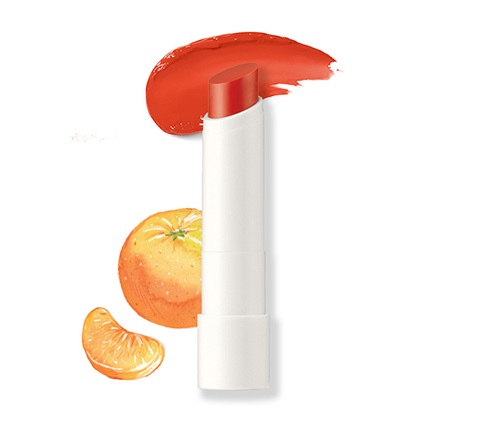 5. Plum&Blueberry
▶ Main ingredients
: Shea butter, Castor oil, Sunflower seed oil, Coconut oil, Olive oil, Sweet almond oil, Lemon peel oil, Jojoba seed oil, Argan tree kernel oil,
Macadamia seed oil, Green tea seed oil, Camellia oil, Rosehip fruit oil, Chamomile flower extract, Beetroot extract, Angelica gigas extract,
Calendula flower extract, Perilla leaf extract, Carrot extract, Centella asiatica extract, Borage extract, Cholesterol, Blueberry extract,
Acerola extract, Euterpe oleracea fruit extract, Terminalia ferdinandiana fruit extract
▶ Product Description
: Nutrition of sweet and sour plum and sweet blueberry
Moist tint lip balm with fresh grapefruit pink color that is natural and lively even if applied on the no-makeup face