THE FACE SHOP Multi-swing cushion
▶ Manufacturing company : THE FACE SHOP

▶ Place of origin:Korea

▶ Volume:15g+1.2g+1.2g
▶ Main ingredients
: Sweet Almond Oil, Eucalyptus Leaf Extract, Purified Water, Lavender Oil, Rosemary Leaf Oil, Borage Seed Oil, Rose Flower Oil, Calendula Flower Oil, Chamomile Flower Oil
▶ Product Description
: 3 in 1 cushion that completes a quick, perfect make-up with cushion & swing
: Fits in the pouch! Completed at once! All-powerful cushion!
Anti Darkening Cushion + Concealer Balm + Blush Balm! Completes quick and perfect makeup with 3 in 1 cushion
▶ Product Features
1. Anti-darkening cushion
STEP. 1
Contains real skin powder that minimizes the artificial feeling, it makes the skin base without darkening all day long.
2. Concealer balm with high coverage
STEP. 2
Ultra cover powder with strong coverage lightly adheres to the skin, and it expresses as flawless skin.
3. Blush balm with high coloring
STEP. 3
A clear coloring system that evenly disperses color pigments makes skin lively.
▶ How to use
1. Cover the skin base with anti-darkening cushion, then put your finger on the home button at the bottom of the product and lightly push it to open.
2. Apply concealer balm to areas where more cover is needed.
3. Apply blush balm to both cheeks that need vitality.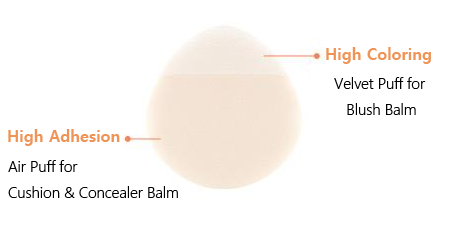 [Cushion & Concealer Balm]
: Enhances adhesion and coverage with air puff side that helps spread uniformly.
[Blush Balm]
: Apply gently to the both cheeks using the velvet puff.
※ How to replace the refill

1. Put your finger on the bottom groove of the product, and open it as you push it lightly in the direction of the arrow.
2. With the swing part fully open, push up the middle of the cushion and separate the contents container protruding upward.
3. Replace the new refill container in the outer container. (Compatible with all the cushions of The Face Shop.)
▶ COLOR
※ Color TIP!