MISSHA Bee Pollen Renew Hadnmade Soap
▶ Manufacturing company : MISSHA
▶ Place of origin:Korea
▶ Volume : 100g
▶ Main ingredients

: Bee Pollen, Propolis Extract, Shea Butter, Coconut Oil, Olive Oil, Macadamia Oil, Apricot Kernel Oil, Jojoba Oil, Camellia Oil

▶ Product Description
: Handmade soap that gives perfect cleansing effect and moisturizing effect
* This product is a KC certified product.
▶ Product Features
1. 100% vegetable oil base
By applying the hybrid method to the natural oil base such as coconut oil, jojoba oil, shea butter, etc., it provides a mild moisturizing effect.
※ Hybrid Method
: It is a soap consisting of an oil base made by boiling a natural oil at a low temperature and aging / drying.
Natural glycerin is naturally produced by 5 ~ 8% in the manufacturing process and gives moisturizing effect.
2. Bee pollen soothes sensitive skin comfortably
Soothes comfortably the skin that becomes easily sensitive caused by external environment and stress, gives the skin an energy and makes it vital and healthy.
3. Perfect cleansing with dense and rich foam
Dense, rich foam and natural cleansing ingredients cleanse perfectly the impurities accumulated on the skin.
It keeps skin balance that is easily damaged by cleansing and makes the skin clear and clean.
▶ How to use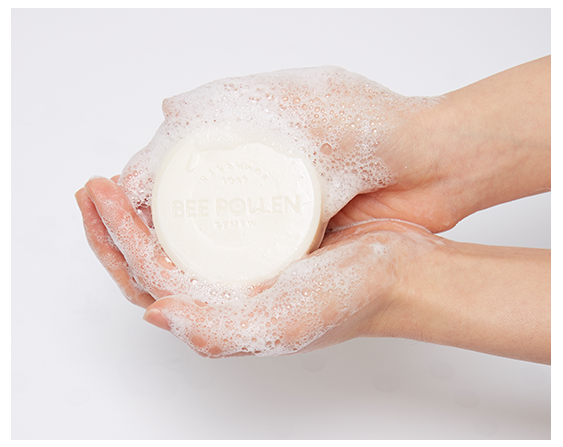 : Moisten the face with water, make lather, and massage gently following the skin texture, then rinse thoroughly.