Its skin Power 10 Formula Wr Oil Ampoule
▶ Manufacturing Company : Its skin
▶ Place of origin : Republic of Korea
▶ Volume: 32ml
▶ Major ingredients
: Adenosine, mistletoe leaf extract, hydrolyzed sodium hyaluronate
▶ Product Fetures
: Oil ampoule gives quick absorption
keeps moisture and store moist in inner skin with lifting oil ampoule.
: Stoecas Everlasting Extract, Mistletoe Leaf Extract, Hydrolyzed Sodium Hyaluronate,
Adenosine keeps skin moisturized and firm improving wrinkles.
: Forms micro particles by micro-organizing method, giving moist and elastic skin.
: Rich nutrition texture with quick absorption without sticky finish.
★ Oil ampule which can be chosen according to your skin problems ☆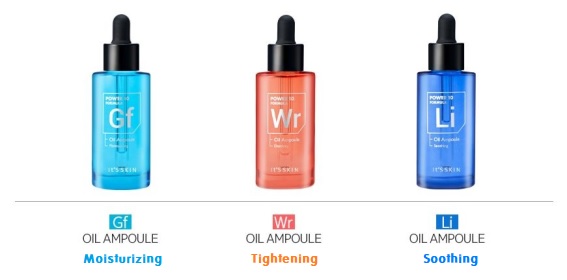 ▶ How to use
: Morning and night after essence use two or three drops to apply
gently onto face, use hands to gently press for absorption.
: Combine with power 10 one shot cream for rich synergy moisture effect.