[2017 NEW] The Saem Natural Daily Original Rose Mask

▶ Manufacturing company:Korea Cosmetic Co., Ltd.

▶ Place of origin:Korea

▶ Internal capacity :100g

▶ Main component




:Damask rose flower water(10,000 ppm), Rose pollen(7,000 ppm), Rosehip fruit extract, Mulberry seed extract, Lavender extract,
Jasmine extract, Rosemary extract, Sciadopitys verticillata root extract, Purslane extract

* Flower of Enchanting Love, Damask Rose

A rose known as a flower of love that attracts men with a dark scent and fascinating appearance.
The roses calm the skin and give you a rich feeling of hydration to deliver mild moisturizers to all skin types.
Especially rich in vitamins A and C, makes your skin clean and beautiful.
It also protects the skin, helping to dry skin barrier care and helps to make healthy skin.
(The above is limited to raw material characteristics)

▶ Product Description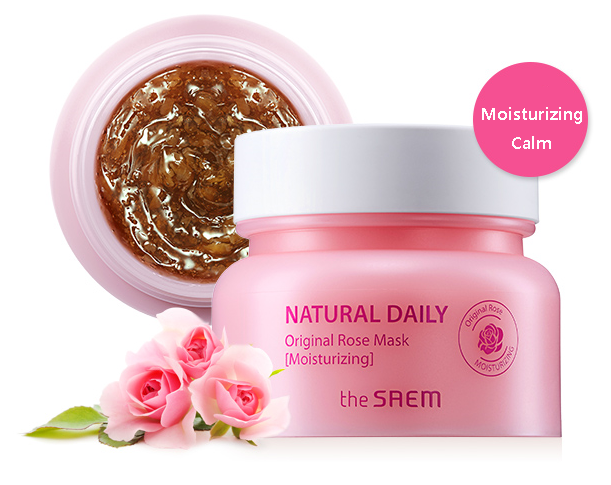 :It is a moisture-filled Daily Rose Mask that contains fragrant French rose petals and Damask rose water that give your skin moisture
and contains Rosehip Fruit Extract, which is rich in vitamin C that give your skin a vitality.

▶ Product features


1. Daily Mask with lots of real roses
Contains real rose petals and rose water to deliver rich moisturizing and nutrients to the skin,
refreshing the dull skin to create clear, clean skin tone.

2. Low-carbon eco-friendly method to deliver the efficacy of fresh roses

The naturally derived moisturizing ingredient of roses is produced by low-carbon eco-friendly technology,
has fewer active ingredients destruction and is skin-friendly by skin care formula.

3. Highly moisturizing formulation with elasticity and adhesion

The gel texture of high moisturizing formulation sticks to the skin and keeps it moist for a long time even after wash off,
and any skin type can be used freely.

▶ how to use

1. After cleansing, take an appropriate amount on a clean face without water and spread it over the face avoiding eyes and mouth.

2. After 5 to 10 minutes, rinse thoroughly with lukewarm water.

* The Natural Daily Original Rose Mask is made from natural ingredients (Rose petals), so there may be color or size variation.