Dr.Jart+ Shaking Rubber Shot
▶ Manufacturing company:Dr.Jart+
▶ Place of origin:Korea
▶ Internal capacity:50g

▶ Description of item
:A cocktail shaking mask that creates the moist modeling pack by simply shaking it
with a double trans booster and a hydro-liquid ampoule.
:You can feel the effect of the ampoule seemed to be managed by filling it between the texture of the skin
not reaching by the general sheet mask.
:It is a continuous nutritional care product that mixes with the ampoule and delivers the nutrients as it is,
not as a blocker to prevent evaporation of the ampoule.
:When the sheet is removed, the keratin is removed with it, and it creates a soft and nutritious skin.
:It can be used hygienically when only one dose is used.
▶Type
▶ how to use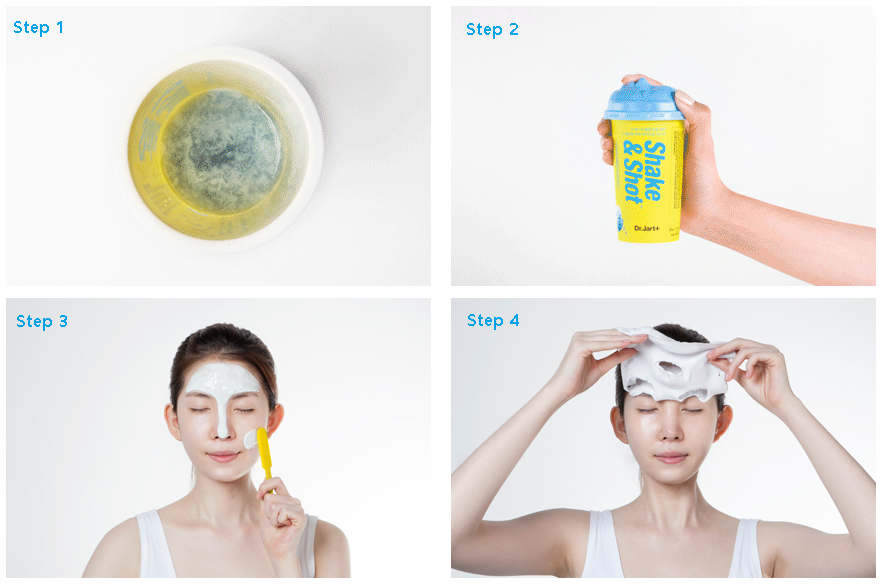 1. Place the 1st (booster) and 2nd (liquid ampoule) into the shaking cup, separate the spatula and close the cap.
2. Cover the hole at the top of the cap with your hand and shake it.
Until the liquidity of the liquid disappear, shake it, shake it!
** Please use immediately as the product begins to harden within 2 ~ 3 minutes after mixing 1st and 2nd.
3. If the formula turns into cream, apply evenly to the face except the eyes and mouth using the spatula.
4. Once the sheet is hardened, slowly remove it from the edge, gently wipe off the residue, and finish with a basic care.