AHC Ultimate Real Eye Cream For Face
▶ Manufacturing company : A.H.C
▶ Place of origin:Korea
▶ Volume : 30ml / 1.01oz.
▶ Main ingredients
: 18 Peptides (Aquaide et al.), 5 Plant Stem Cells, Pure Biotics Water
▶ Product Description
: Anti-aging eye cream for face with quick absorbency and temperature sensitive polymer technology
: Whitening · Wrinkle improvement dual functional cosmetics
▶ Product Features
1. Proprietary technology that ingredients are absorbs deeply into the skin, 'Micro Emulsion Biosensor System*'
Minimizes all active ingredients to 1/200 size of pores, the temperature-sensitive polymer components naturally melt at skin's temperature,
helping to cover the skin gently.
* Micro Emulsion Biosensor System
: All active ingredients are broken down into smaller particles than the pores through 3 steps and encapsulated into fine particles.
After being absorbed the ingredients in which the temperature-sensitive polymer is encapsulated, it reacts at a temperature of 32-37 ° C
to break the capsule wall, releasing the active ingredient deep into the skin to enhance the anti-aging effect.

2. Exclusive Ingredient & Patented Peptide 'Aquatide'
(Heptasodium Hexacarboxymethyl Dipeptide-12)
AHC's unique peptide ingredient helps to make the skin elastic.
In addition, we received the In-Cosmetics Asia 2016 Gold Prize, the global raw material award, and announced SCIE-grade papers
and patent registration in 4 countries.
3. Human body application test proving the effectiveness of anti-aging
Multiple aging solutions (helps to improve antioxidant, helps to improve derma anti-aging, relieves fatigue by reducing skin elasticity,
helps to improve quadruple pore, cumulative moisturizing effect, etc.) prove as a changed skin.
* Micro Emulsion Biosensor System
Ultrafine micro-process + Temperature sensitive polymers
* Patented from Korea, USA, Europe, Japan
▶ How to use
1. Eye Treatment
: After cleansing in the morning and evening, take the appropriate amount of Ultimate Real Eye Cream for Face, and gently apply it by gently tapping on the eye area.
2. Facial Treatment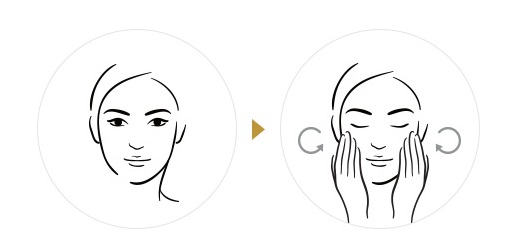 : After cleansing in the morning and evening, in the last step of skin care, take the Ultimate Real Eye Cream For Face thoroughly and apply it over entire face.