ETUDE HOUSE Soonjung Mild Defence Sun Cream(SPF49/PA++)
▶ Manufacturing company : ETUDE HOUSE

▶ Place of origin:Korea

▶ Volume : 50ml
▶ Main ingredients
: Madecassoside, Scutellaria Baicalensis Root Extract, Tocopherol, Green Tea Extract
▶ Product Description
: Low irritant inorganic sunscreen that helps to protect against fine dust stress and hot UV heat
▶ Product Features
1. Contains Panthensoside™, a soothing ingredient
It contains Panthenol to soothe the skin that has been stimulated by external / internal stress, and Madecassoside which is a skin damage care ingredient.
2. Care for heated skin and fine dust as well as UV
Cooling Relief™ helps to soothe skin that has been stimulated by stress, UV, and Dust Cut™ helps to relieve stress on skin that has been stimulated by fine dust.
3. Low-irritant Inorganic Sunscreen
It is an inorganic sunscreen that reflects ultraviolet rays from the surface of the skin, and it blocks ultraviolet rays mildly.
* Weakly acidic pH formula
* Natural ingredients 93%
* 9 FREE
(Animal raw material, Mineral oil, Fragrance, Polyacrylamide, Imidazolidinyl urea, Triethanolamine, Tar pigment, Talc, Paraben)
▶ Product Formulation
: Soft cream formulation without stickiness
: It spreads moist and is adhered without stickiness.
▶ Before & After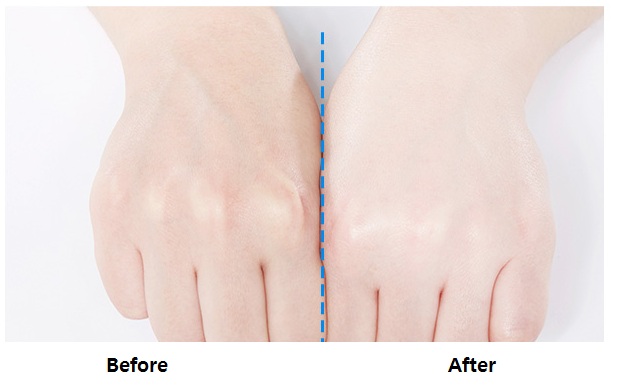 : After absorption, you can see the skin naturally brightened.
▶ How to use
1. In the last step of skin care, apply over the area exposed to UV.
2. Apply to your face little by little.
3. Tap it lightly.
(To increase UV protection effect, it is better to apply tapping than rubbing.)
4. The remaining sunscreen can effectively block ultraviolet rays by applying thoroughly to forehead, cheekbone, nose, jaw and neck.