Holika Holika Holi Pop Chubby Cara
▶ Manufacturing company : ENPRANI
▶ Place of origin:Korea
▶ Volume : 8g
▶ Main ingredients
: D-Panthenol, Biotin
▶ Product Description
: Eyelash POP UP!
Eyelashes that are rich and volume like a doll!
▶ Product Features
1. Powerful volume that is clear and chubby
The vivid deep black color adds clarity and the Lash-Fit volume powder adheres perfectly to the eyelashes,
so it completes rich and volumed eyelashes like a doll even thinning lashes with a single touch.
2. Wave brush optimized for volume expression
The wave brush filled with the contents applies the mascara tightly between the lashes,
and the curved part lifts up the lashes and gives the lash volume effect which is dense and chubby.
3. Perfect curling without sagging, long-lasting without smearing
Curl-Keeper Polymer that keeps eyelash curling keeps the eyelashes like the beginning without sagging.
Long lasting effect that is strong against oil, moisture in everyday life such as sweat, tears, etc., and does not need to worry about smearing
4. Easy Washable Type
Without the need for a separate remover, it can be removed cleanly without any irritation with just lukewarm water.
▶ Before&After
1. Richness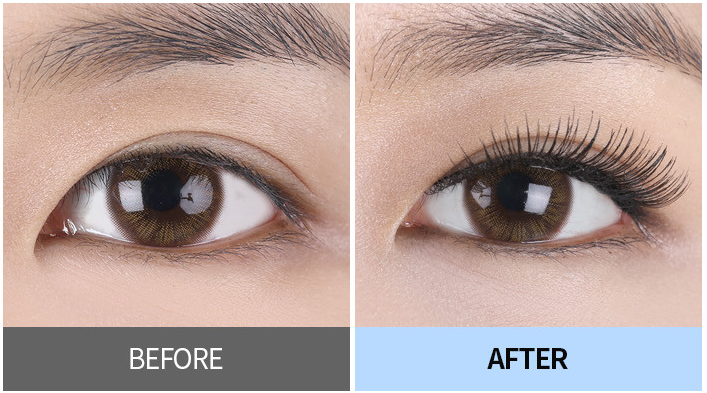 2. Persistency
Maintains eyelashes that do not sag all day like a doll with Curl-keeper Polymer which firmly fixes eyelash curls.
3. Cleansing
It is easy to remove the mascara residue without irritation after soaking it with lukewarm water.
(It is a daily proof type that is removed only by lukewarm water without smearing on sweat and tears .)
▶ How to use
1. Use the eyelash curler to make detailed curls from the eyelash roots.
2. Take an appropriate amount of the contents to the brush and apply from the root of the eyelashes in a zigzag motion.