Holika Holika AC Mild Yellow Spot Patch
▶ Manufacturing company : ENPRANI
▶ Place of origin:Korea
▶ Volume : 15pcs
▶ Main ingredients
: Hydrocolloid
※ What is Hydrocolloid?
: It is a mixture of hydrophilic natural gel and hydrophobic synthetic rubber. It is excellent in waterproof function and bacteria suppression,
absorbs exudate properly and is excellent for trouble spot care, protects skin from pollutants and prevents secondary infection.
▶ Product Description
: Soothing Spot Patch that prevents secondary infections from external harmful environments and protects skin by creating a humid environment
with hydrocolloid bands on blemish areas
▶ Product Features
1. Blemish, trouble area
When attached to acne or blemishes, it helps to adsorb and protect by exudates.
2. Prevents secondary infections and calms quickly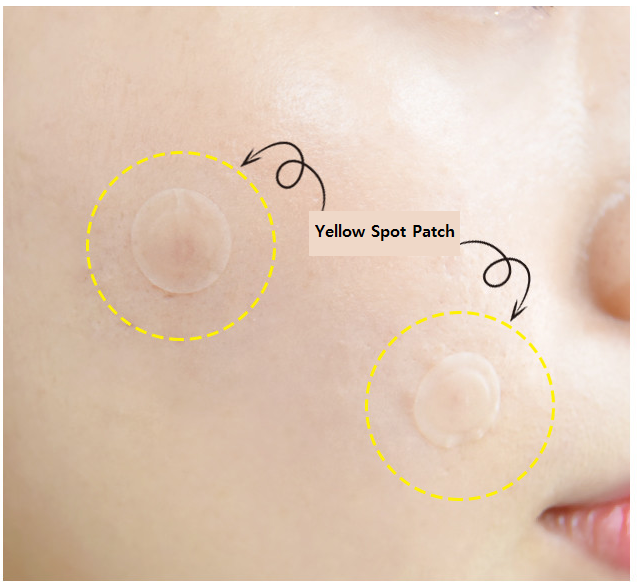 Prevents secondary infection by blocking water, dust and bacteria from trouble area to help calm skin.
3. Beveling type spot patch with thin edge
It compresses the edge thinly by complementing the disadvantages of the existing patch which is thick, fat, and visible,
and it is excellent for the spot area care and is invisible after the attachment.
※ Beveling Method Patch
: It is arc mild yellow spot patch applying beveling method that the edge is thin.
: Maximizes healing by concentrating medication in the central part of the patch.
: If you press the middle part of cut line on the film to remove the patch, you can conveniently use it by minimizing inconveniences
such as fingerprints and fold when taking out the patch.
▶ How to use
1. Wash the trouble area thoroughly and dry thoroughly.
2. Without applying ointment, attach the patch separated with protective papers to the trouble area.
(Please do not change patch frequently so that it can protect blemishes.)
3. After attachment, wait until the area where the blemish was swollen white by the exudate is no longer swollen over time, and replace it with a new patch.
※ When removing spot patch, TIP
: Patch removal method to minimize skin damage to trouble area
1. To prevent irritation on the trouble area, make sure that the edges are leveled, then remove it gently.
2. When it is not removed well, it can damage the restored skin by forcibly removing it. Soak the skin in warm water to soften it and remove it.