Its Skin UV LAYER SUN STICK
▶ Manufacturing company : Mix & Match Co., Ltd.
▶ Place of origin:Korea
▶ Volume : Clear·Cooling 16g/Mild 19g
▶ Main ingredients
: Pelargonium Graveolens Flower Oil, Orange Peel Oil, Basil Oil, Abies Nephrolepis Oil, Orange Flower Oil, Pogostemon Cablin Oil,
Ylang Ylang Flower Oil, Ecklonia Cava Extract, Sargassum Fulvellum Extract, Plankton Extract, Damask Rose Flower Oil
▶ Product Features
: 3 kinds of Sun Sticks anytime, anywhere (SPF50+/PA++++)
▶ How to use
: Turn the dial on the bottom of the container to expose the contents about 5mm, and then gently apply on the face and neck which are easily exposed to ultraviolet rays.
* While carrying, apply frequently to areas where UV protection is required.
* Please open the cap slightly for the first time use, and please keep it after closing both the inner cap and the outer cap after use.
※ Precautions for use
: Due to the nature of the water formulation, the following phenomenon may occur, but there is no abnormality in use.
1. When opened, the surface of the contents may be torn. Please open the cap slightly when you first use it.
2. Essence may form on the surface of the stick before use or during use.
It is a natural phenomenon because it is the highly-moisturizing formulation and the essence ingredients are collected.
3. Due to the nature of the formulation, if the contents are excessively exposed, the contents may not be come back. Please expose only 5mm when using.
4. It is the highly-moisturizing formulation. So when storing for a long time at high temperature (45˚C or more),
it may cause shrinkage of contents and other property changes. Please close the cap tightly after use.
▶ TYPE
1. UV LAYER SUN STICK CLEAR
Clear Sun Stick that gives thin and comfortable finish(Transparent blocking!)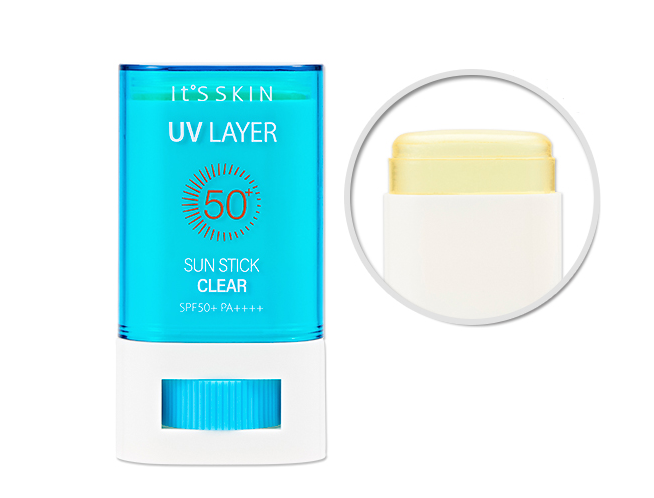 2. UV LAYER SUN STICK COOLING
Cooling Sun Stick with plenty of moisture (Full of moisture!)
3. UV LAYER SUN STICK MILD
Mild Inorganic Sun Stick(Fresh!)