ENPRANI Age Cover Lasting Veil Foundation
▶ Place of origin:South Korea
▶ Volume : 45g /1.58 oz.
▶ Main ingredients
: Lilium Candidum Flower Extract, Nymphaea Coerulea Flower Extract, Water Lily Flower Extract, Yeast Extract, Isoleucine, Gold, Adenosine
▶ Product Description
: Silk foundation for perfect cover!
: SPF30/PA++
: UV protection, whitening, wrinkle-improving functional cosmetics
▶ Product Features
1. Lasting veil cover
Satin skin with smooth texture, tight cover setting
Build-up Cover Powder and patented ingredients that cover the redness of the skin keep the skin texture smooth.
2. Lifting care
Lifting Serum Ingredients! High-density Tension Care
The effective moisturizing ingredients for skin such as peptide that increases density of the skin
and T-NMF ™, a patented ingredient that helps strengthen skin barrier, and centella asiatica leaf create a smooth, firm and shiny skin.
3. Satin glow
Creates luxurious shine like satin that does not disappear for a long time
Contains a Lasting Film Agent and a Sebum Control Powder, it adheres gently to the skin without stickiness.
Keeps clean skin without darkening even after time.
▶ TEST
1. Coverage
: Uniform, smooth cover without clumping

Light and moist texture that softly covers on the curve of the skin gives thin, uniform coverage.
2. Persistency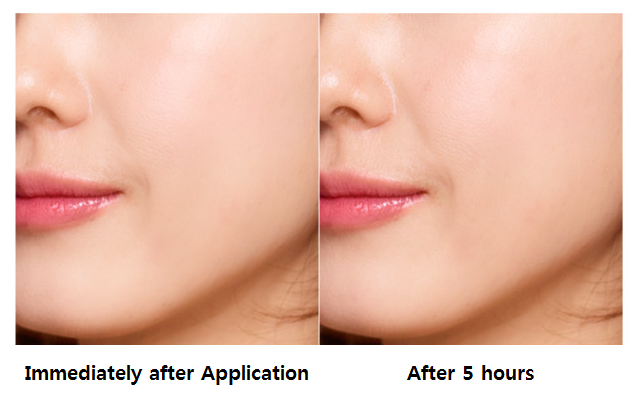 : Long-lasting
It does not get disturbed by the high adhesion effect and the strong water resistance effect on the skin which becomes easily dry,
and it prevents the color blurring effect by sweat and sebum, and the makeup can be maintained for a long time without darkening.
3. Adhesion
: Covers beautifully with a transparent shine
Sebum Control Powder absorbs excessively shine, light oil gives sebum control effect, enhances adhesion and gives a three-dimensional transparent shine.
▶ COLOR
▶ How to use
: After basic skin care, take the appropriate amount and apply it smoothly along skin texture.