TONYMOLY Easy Touch Coloring Brow Cara
▶ Place of origin:South Korea

▶ Volume : 5ml /0.16 fl.oz.
▶ Main ingredients
: Silk Protein, Panthenol, Wheat, Vitamin E derivative
▶ Product Description
: Mascara for eyebrow that naturally gives coloring and fixing effect to the eyebrows
Brush only for eyebrow that one side is long and the other side is short gives color to eyebrows without clumping.
▶ Product Features
1. Natural coloring
2. Strong brow setting power against wind and rain
3. Contains panthenol ingredients that make eyebrows healthy
▶ How to use
: Apply the brow cara by sweeping on the eyebrows, and brush gently.
※ 2 STEP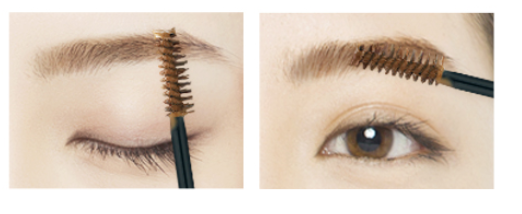 STEP 1.
Apply it lightly from the middle of your eyebrows to the inner corner of the eyebrows
in the direction opposite to give the eyebrows color.
STEP 2.

Gently brush from inner corner to the outer cornerof the eyebrows again along the eyebrow texture.

▶ COLOR