TONYMOLY Intense Care Gold 24K Snail Lip Treatment

▶ Place of origin:South Korea

▶ Volume : 10g / 0.35 oz.
▶ Main ingredients

: Snail Mucus Filtrate, Bergamot Fruit Oil, Lime Oil, Eucalyptus Oil
▶ Product Description
: A highly moisturizing lip care balm that moisturizes and smoothes dry lips
and can be used by men and women of all ages
Highly moisturizing lip treatment balm that makes your lips smooth and moist with Gold, Snail Mucus Filtrate
* Contains Snail Mucus Filtrate(100ppm), Gold(10ppm)

▶ Product Features
1. Highly-Moisturizing Lip Care
Exfoliating care and nutritious lip care with thick application
* Since it is a highly moisturizing lip balm, it may melt at a temperature higher than room temperature,
but there is no problem with the product.
2. Transparent Balm Type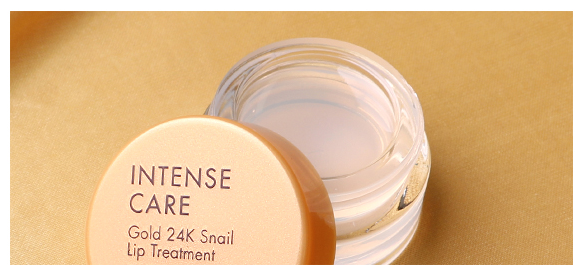 Transparent and smooth type balm containing snail mucus filtrate
3. Use as a sleeping pack
Before sleeping, you can use it as a lip sleeping pack if you apply enough amount of it.
▶ How to use
: Whenever you feel dry, apply it evenly over your lips.