ARITAUM Poremaster Sebum Control Primer

▶ Manufacturing company : AMOREPACIFIC

▶ Place of origin : Korea

▶ Volume:25ml
▶ Main ingredients
: Centella Asiatica Extract, Mulberry Root Extract, Green Tea Extract, Citrus Junos Fruit Extract, Lippia Citriodora Leaf Extract
▶ Product Description

: Poremaster gives the secret of smooth, soft, and perfect skin texture
▶ Product Features
1. Pore & irregularity cover
The mineral polymer gel covers smoothly the enlarged pores and irregularities that are noticeable.
2. Sebum control
The sebum control powder with fine particles controls shiny excess sebum, and it enhances the makeup persistency and keeps skin soft all day long.
3. Pore care effect with plant extracts!
Base containing plant extracts is effective for pore tightening as well as for skin soothing.
▶ Before & After
▶ How to use
1. Take a small amount to the areas such as T zone or both cheeks where the pores, irregularities, fine wrinkles are trouble.
2. Spread gently with a circular motion, then tap it lightly until fully absorbed.
* If you use a lot of contents, the makeup may be clumped, so please use only the appropriate amount.
※ Makeup TIP which is better to use together!
Step. 1 Matte Gel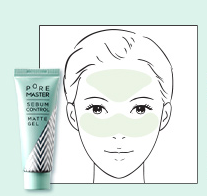 : Apply it to the part where the oil comes up such as T zone to absorb it.
Step. 2 Stick
: Cover the pores and fine wrinkles by patting lightly.
Step. 3 Powder/Pack
: After the makeup, apply on the oily area with the included puff to finish softly.