Holika Holika Tail Lasting Liquid Liner
▶ Manufacturing company : Holika Holika
▶ Place of origin:Korea
▶ Volume : 2g
▶ Main ingredients
: Purified Water, Tetrasodium EDTA, Aminomethyl Propanol, Potassium Sorbate, Phenoxyethanol
▶ Product Description
: Sharp & Edgy all day long!
Eyeliner that expresses delicate tail with elaborate and delicate sponge tip
▶ Product Features
1. Long lasting liner with powerful power-proof function!
Power-proof formula which is resistant to water, sweat, and sebum keeps neat eye makeup for a long time.
2. Vivid color payoff
The vivid color enables you to create vivid, clear eye makeup.
3. Quick & Easy Cleansing with film type formula
Without any friction or irritation, even only the soft lukewarm water makes perfect cleansing possible.
4. Soft & Sharp Tip
The soft, sharp tip easy to draw adheres thinly and lightly to the skin, and it can be expressed freely and easily from bold lines to fine lines.
▶ TEST
1. Persistence TEST
(1) Waterproof test
: Film formula with excellent long-lasting effect is resistant to water and sweat, and keeps clear eye line without smudging for a long time.
(2) Oil test
: With the oil-proof function, it keeps the eye makeup clean even in oil.
2. Cleansing TEST
: Just soften it with lukewarm water, then rub it lightly. Then easy & perfect cleansing is possible!
▶ How to use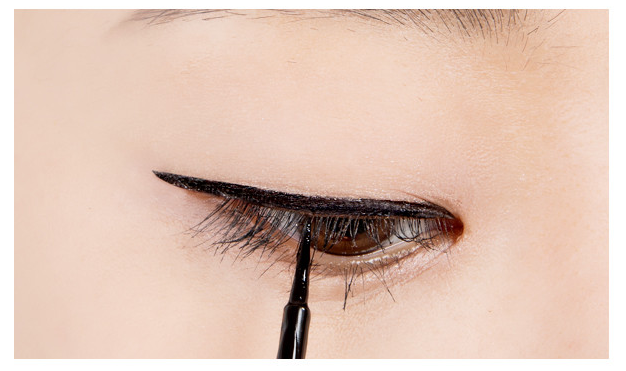 : Shake the container up and down 4 or 5 times before use, and gently draw as if filling between the eyelashes.
▶ COLOR
01 Matte Black
Matte black liner for clear, vivid eye makeup