APIEU Cover Pang Long Wear Cushion
▶ Expire Date: 07 Oct 2022



▶ Country of origin : Republic of Korea
▶ Contents : 15g / 0.52 oz.

▶ Product description

: Cushion that adds lasting power to adhesion and creates smooth and high-clear skin

: The triple coverwear complex composed of cover powder, fitting powder, and lasting powder and covering powder
of various sizes create a smooth porcelain like smooth skin.

: Even with minimal touch, it adheres to the skin, so it is possible to produce a clean, close cover without stains.

: It contains 'Longwear Fixer Polymer', a makeup fixer ingredient, to provide excellent lasting power.

: A strong cover, but a soft, gentle ingredient on the skin helps the skin care and soothing.

▶ COLOR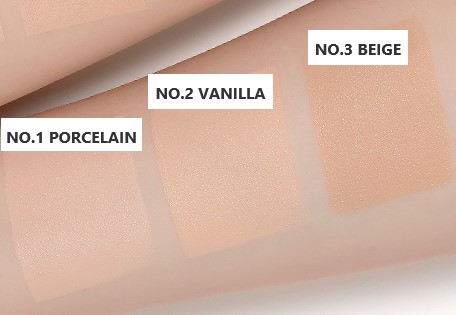 ▶ COVER POWER




▶ Puff

: The uniform and dense ruby ​​cell fabric minimizes the absorption of contents and helps to adhere evenly to the skin.

: The round surface has a wide diameter (approximately 5.6 cm) for a more comfortable and uniform touch, and the edge surface
has a special diagonal cutting for meticulous and delicate touch to the cover blind spots and the curved side of the nose.

* TIP : It is perfect for puffs of liquid and jelly formulation blusher.
▶ How to use

: In the first step of base makeup, take an appropriate amount of the contents on the puff, then tap on the face for close contact.

* It shows high coverage even if you apply only a small amount.