NONFICTION BODY WASH

▶ Place of origin:South Korea

▶ Volume : 300ml / 10.14 fl.oz.

▶ Product Description

: Gel-type body wash containing highly concentrated oil uses surfactants derived from nature.

: Consisting of ingredients that help calm the skin as well as excellent moisturizing effect, the rich foam and refined scent
fills inspiration in the most intimate, quiet time starting and ending the day.

: Sweet almond oil, avocado oil, and sesame seed oil, which are excellent for moisturizing, supply moisture and nutrients
to the depths of the skin and form a protective film to prevent dry stress after washing.
#01 SANTAL CREAM
: A woody scent of calm and relaxing mood as the harmony of Vetiver, Sandalwood, and fresh cardamom scent.
#02 GENTLE NIGHT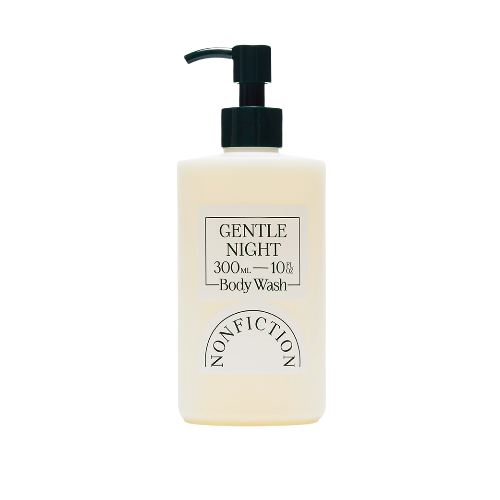 : A gentle night body wash with a warm but neutral charm with vanilla and musk added to sweet suede and calm cedar wood.
#03 GAIAC FLOWER
: Gaiac Flower Body Wash with smoky oriental floral scent.
#04 FORGET ME NOT
: As unique combination of spicy pepper, amber and green notes, a mysterious and enchanting new mood of citrus scent.

▶ TEXTURE




▶ How to use

: Take an appropriate amount on a shower sponge or foam mesh and massage the entire body, then rinse thoroughly.