RAIP R3 ARGAN HAIR OIL ESSENCE




▶ Manufacturing company : BESCO STEK Co., Ltd.

▶ Place of origin:South Korea

▶ Volume : 100ml / 3.38 fl.oz. *3EA

▶ Main Ingredients




: argan oil, vitamin tree oil, camellia seed oil, jojoba seed oil, avocado oil, grape seed oil, olive oil,
sunflower seed oil

▶ Product Description

: A hair oil that supplies rich nutrition to quickly damaged hair without leaving a gap in your hands.

: It is quickly absorbed without stickiness, giving you an immediate glow and softening effect.



#BABY POWDER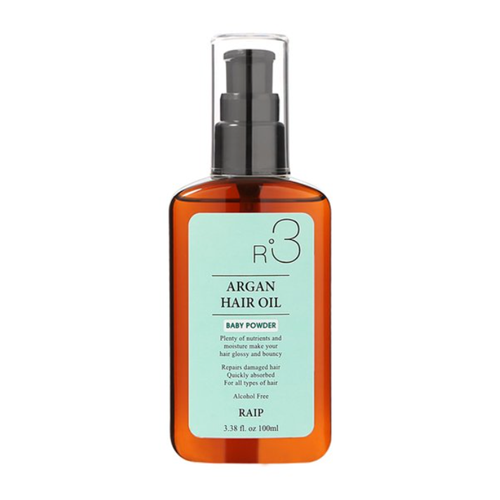 : Soft and cozy scent that feels the sweetness and purity of the baby.

#ORIGINAL



: Attractive florental scent that blends floral, vanilla and musk scents properly.

#LOVELY
: Lovely floral scent with pleasant sweetness and freshness.
#ELEGANCE

: Floral scent that emphasizes elegance and luxury, leaving a subtle yet calm lingering effect.

#OCEAN BLUE


: Unique scent in harmony with fresh scent and subtle reverberation.

▶ How to use




1. After shampooing, prepare the bomal to be moist.

2. Put an appropriate amount on your hands.

3. Apply evenly from the tip to the middle of the hair.