THE FACE SHOP Stylist Silky Hair Color Cream
▶ Manufacturing company : THE FACE SHOP

▶ Place of origin:Korea
▶ Internal capacity: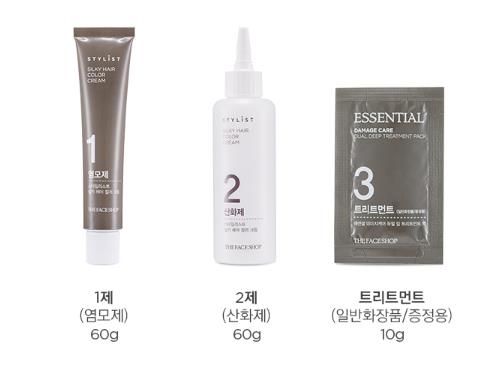 ▶ Main ingredients
:Henna extract,Licorice extract, Green tea extract, Mineral oil
▶ Product Description

:Silky hair color cream that can maintain soft and healthy hair after dyeing with hair protection effect from henna and silk extract
:Healthy and Shiny Dyed Hair! A hairdye with mild green tea fragrance
:Functional cosmetics
▶ Product Features
1. Excellent color expression and treatment effect
The excellent treatment effect of henna ingredient protects the hair as if coating all over the hair.
2. Hair care ingredients that make your hair soft and healthy
It contains licorice extract, silk extract and wheat protein which helps to comfort the skin after dyeing.
So it can make your hair healthy and shiny even after dyeing.
3. Cream type for easy use
It is a cream type that is easy to apply to the hair and does not flow down, and you can easily change hair color.
* NOTICE
:Since May 30, 2017, the quasi-drugs used in existing hair dyeing agents have been converted into
functional cosmetics under the amendment of the Cosmetics Act.
Even if it is written as a quasi-product in a box or pouch, there is no abnormality in the contents.

▶ Color
▶ How to use


1. After the 1st opening, put the 1st into the 2nd and close the lid of the 2nd tightly.
2. Shake up and down to mix well.
3. Apply the mixture to the hair and leave for 20 ~ 30 minutes.
4. After the time has passed, shampoo with lukewarm water and rinse the hair thoroughly.