IOPE MEN Bio Essence Intensive Conditioning

▶ Manufacturing company : AMOREPACIFIC

▶ Place of origin:Korea

▶ Volume:145ml
▶ Main ingredients
: Saccharomyces Ferment Filtrate, Ethanol, Glycerin, Saccharomyces Ferment, Madecassoside, Natto Gum, Betaine, Adenosine, Purified Water, Carbomer
▶ Product Description

: Bio essence that makes your skin transparent and smooth by improving the condition that changes every day
▶ Product Features
1. Skin recharging essence for men
Essence containing Bio-redox α™ enhances your skin condition and brings vitality to the skin.
2. After shaving effect

Madecasosside and natural fermented ethyl alcohol calm and protect the irritated skin after shaving.

3. Moisturizing deep into the skin

It is a water essence type that delivers moisturizing effect deep into the skin, providing a moist and smooth skin.
※ Evolution of MEN Bio Essence for more powerful effects and ease of use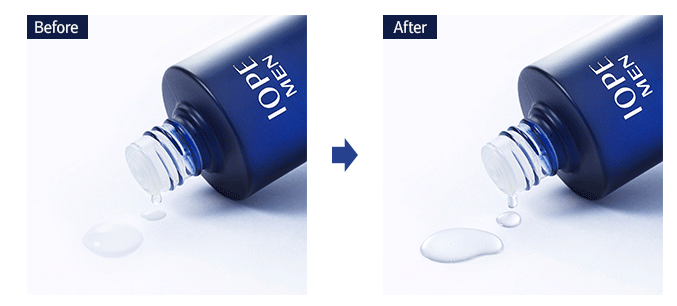 1. Function : Evolved Bio-redox a™ boosts skin condition more strongly and gives skin vitality.
2. Feeling : You can use it without the inconvenience by raising the viscosity from flowing formulation like water.
▶ How to use
1. After cleansing, take the appropriate amount (1.3ml) onto the palm of your hand to keep the contents from flowing.
* Appropriate amount (1 time) : 1.3ml(Check the amount of daily use (2.6ml) with the scale on the side of the bio essence container.)
※ TIP
: 3.3.3 Treatment to help absorption of essence and maximize skin conditioning effect

1. Use 3 fingers to pat gently from the jaw to the both cheeks.
2. Pat it lightly from the eyes to the forehead.
3. Finish the 3 movements by patting the forehead lightly. In 3 days, you can feel better skin conditions.