MISSHA Bee Pollen Renew Cream
▶ Place of origin:Korea
▶ Volume : 50ml / 1.69 oz.
▶ Main ingredients

: Bee Pollen, Green Propolis, Honey, Edelweiss Callus Culture Extract, Dendranthema Boreale Extract
▶ Product Description

: Skin energy strengthening cream that makes damaged skin moist and healthy with deep nourishment
: Bee Pollen Extract 40% + CORESOME™ DELIVERY MECHANISM
: Wrinkle improvement & whitening functional cosmetics
: It gives vitality to tired and dull skin, and makes it vital and healthy.
: Makes damaged skin barrier moist and healthy. Skin irritation test and hypoallergenic test completed.
※ 10-free formula
: 6 types of parabens(Methylparaben, Butylparaben, Ethylparaben, Propylparaben, Isobutylparaben, Isopropylparaben),
Triethanolamine, Benzyl Alcohol, Propylene Glycol, Benzophenone-4
: The CORESOME™ particles, stabilized with capsules of the phospholipid structure,
effectively deliver the active ingredients to the skin.
: ​Sweet and healthy fragrance(Ylang Ylang / Damask Rose Flower / Chamomile Flower)
▶ Texture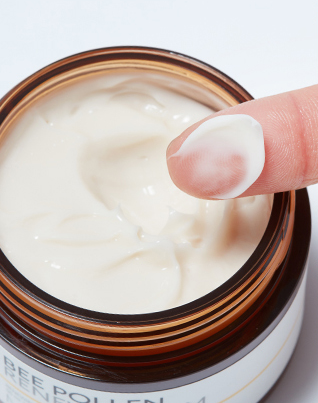 ▶ How to use
: Use the included spatula to take an appropriate amount, apply it gently
following the skin texture, and then pat until fully absorbed.